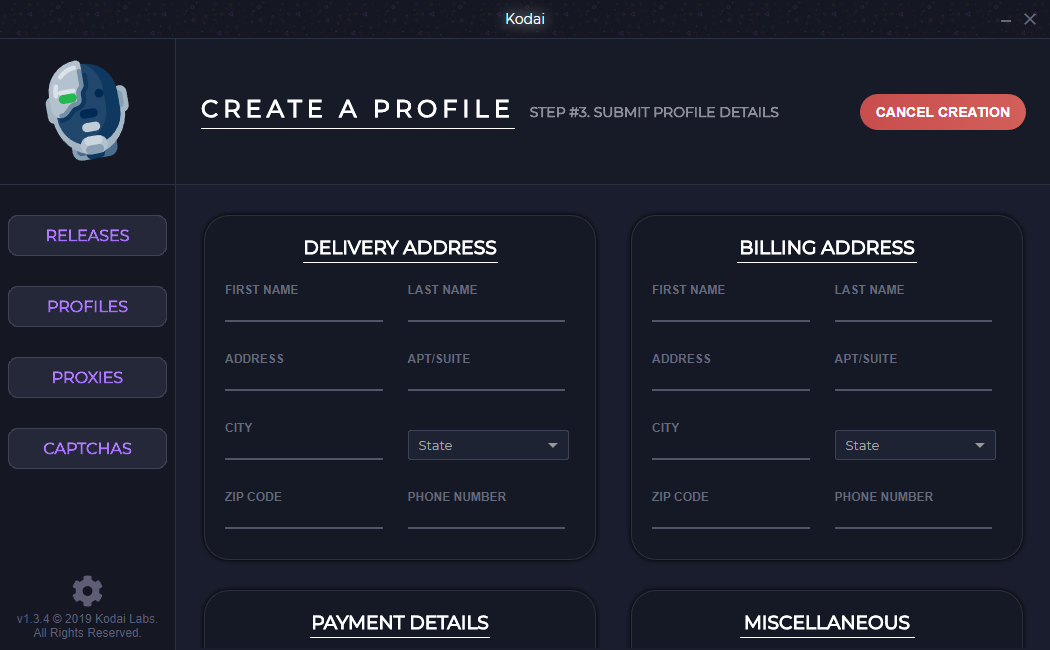 1. Click Profiles.
2. Click the plus sign on the top right.
3. Enter a profile name and then select your locale.
4. Enter in all of your information accurately.
5. Make sure to check Use Delivery Address for Billing if you wish to do so.
6. Click save profile.
Export Profiles
Click this option if you wish to save all of your profiles to a file to move to a different computer or for other reasons.
In order to protect your data, Kodai offers the option to encrypt your profiles with a pass-phrase. Make sure to write it down as you will be prompted to enter it when importing!
If you wish to just have a regular profile export, leave it empty and click continue.
Click Select a Directory and choose where you would like to save your profiles.
Import Profiles
Click this option if you wish to import a Kodai profile file. At this time, you can only import profiles that have previously been exported from Kodai.
Click Select File and choose the profile file you would like to import. Then click continue.
If you would like these new imported profiles to overwrite all the profiles saved on this device, uncheck Import Profiles onto Existing. Otherwise, leave it checked and it will add your imported profiles over your current ones.
Click Continue. Enter your pass-phrase that you created when exported, if you didn't create one, leave it blank. Click Import Profiles.