You can renew your license key on the Kodai Hub. You can access to Hub by visiting https://hub.kodai.io, and be sure to be signed into the Discord account that has your Kodai key attached to it.
Once logged into the Hub, go to Account > Key Renewal. On this page, you will be able to see all the details about your license key, including how many days you have left, your current expiration date, and the ability to renew your license key!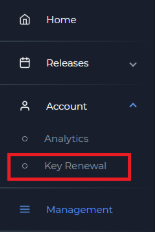 Please note: The payment is not recurring, you will need to purchase a renewal on the Hub whenever you expire.
IMPORTANT! You have 20 days from your expiration to purchase a renewal, else your key will be purged with no way to renew! If you experience any issues, or have not been credited the appropriate amount of days, please create a ticket and include your order details and key. We HIGHLY RECOMMEND that you renew a few days prior to the expiration date to avoid complications if you were to wait until the last minute.
If you don't have access to the Hub at this time, you can also check your license key expiration date right from Kodai. It's located in the settings page, where you can get to by pressing the cog on the bottom left of the application.