We have recently introduced a new rewards system, where you can earn various prizes and awards for posting your success and successful setups!
You have to chance of getting rewarded when:
Posting your successful setup.
Posting your success in the Discord server.
Posting your Success in the Discord Server
Posting your success in the Discord server is simple! Anytime you get success that you'd like to showcase, post either a picture, gif, or tweet in the #success channel for a chance to get rewarded.
Posting your Successful Setup
When you start a release, a new button will appear next to the release controls, a rocket ship. This button will glow when new success is available to be posted. All you will need to do is click the button to post your successful setup!
The setups are all anonymous, so you do not need to worry about people pestering you about your setup afterwards (as people have told us that's the main reason why they don't post their success). The information in the setup is minimal, but enough to help other users that may not have the best setup.
Here's an example: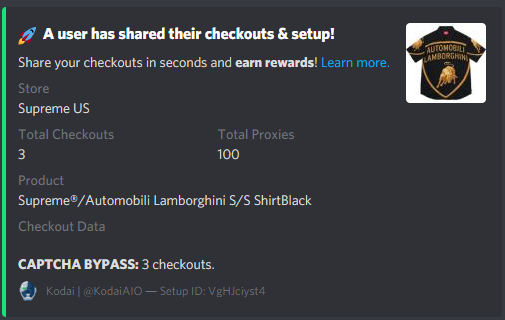 What are the Rewards?
Currently, the possible rewards are:
Exclusive ranks in the Discord server.
Free days onto your license key renewal.
The probability of being rewarded is currently undisclosed, but you have a significantly higher chance of being rewarded when you post your success in the Discord server compared to your successful setup (over 5x higher!). But you can post both for an even greater chance of being rewarded!
Additionally, during hyped releases, we may announce a "surge", where the chances of being rewarded may be doubled, or even tripled!
What are the Exclusive Discord Ranks?
There are currently 3 exclusive ranks that you can be awarded to:
Chef

Master Chef

Legendary Chef

.
You get awarded these ranks in order. So you need to first rankup to the Chef role, then Master Chef, then Legendary Chef. Which means, you would need to rank up 3 times before reaching the highest rank.
Each role has its own exclusive Discord channel, where others in the same rank as you can talk. Additionally, frequent exclusive events occur in these channels, such as Essentials group buys, proxy giveaways, etc, so you don't want to miss out!