Navigate to the Releases tab, press the '+' to create a new release, name your release group and select your desired region in the Zalando category (e.g "Zalando - UK").
Enter the SKU of the release you would like to run for in the Product SKU field inside of your task group.
Click on Configure Accounts and add your list of Accounts as shown in the screenshot below.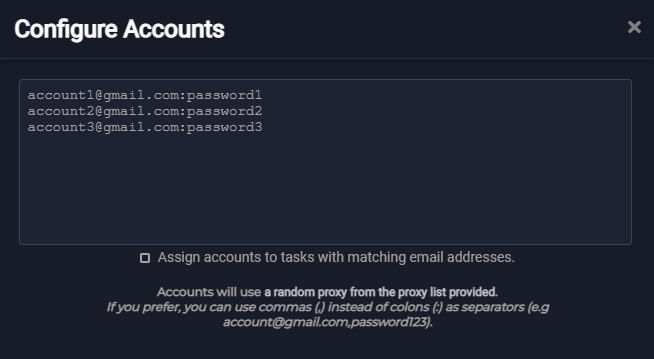 Select your Proxy List.
To create your tasks, click the + sign. Select an individual profile or 'Use All Profiles'. For sizing, you can either select Random, specific sizes, or your preferred size range which you can customize in the settings tab.
Once you have done all the above, make sure to click the Save Changes button so you don't lose your settings!
NOTE: Login is known to be the most tedious step. With Kodai, it's simple. Once an account logs in once, the session will save and you will not have to log in again for a very long time (even if you recreate the task or restart your client). Therefore, it's advised to just login to all your accounts (start your tasks) right away, so then whenever you want to run for releases or restocks you don't need to worry about login. A lot of proxies are banned on login (tasks will just get stuck on logging in). If you notice your tasks are stuck, try switching proxies. Residential proxies work great. Once all your tasks are logged in, you can switch back to your normal proxies and stick with those as you will no longer need to worry about login.
IMPORTANT! The ideal setup is to have tasks prepare ahead of time. So, if there's a drop coming up, start tasks ~15 minutes early and let them prepare and get to countdown or waiting for product. Once the product releases, your tasks will checkout extremely fast. If your account has Plus, it will automatically be detected and that task will start early (when Plus accounts are allowed to checkout).