Navigate to the Releases tab, press the '+' to create a new release, name your release group and select your desired region in the Nike category (e.g "Nike - US").
Change the MONITOR TYPE to Tool Selection.
Click on Tool and the menu in the screenshot below will appear.

Manual Mode will open a browser (it will also use the same proxy it used for entering draws) for each of your tasks and go to the account page. You can then interact with the website on your own. This is extremely convent for users that would like to cancel orders or edit their account settings on their own. IMPORTANT! The "Simultaneous Entries" setting still applies for manual mode. For example, if you have that value set to 5, only 5 browsers will open at once. Once you close one of the browsers (either by closing the browser or stopping the task), another task will open it's browser.
Account Ban Checker - Easily check the status of your accounts. Works for all regions and for request and browser mode. You can also copy all accounts that are banned and not banned, so it should be super easy to filter out bad accounts now.
Account Details Wiper - This tool will delete all the saved details on each account (saved addresses and payment details).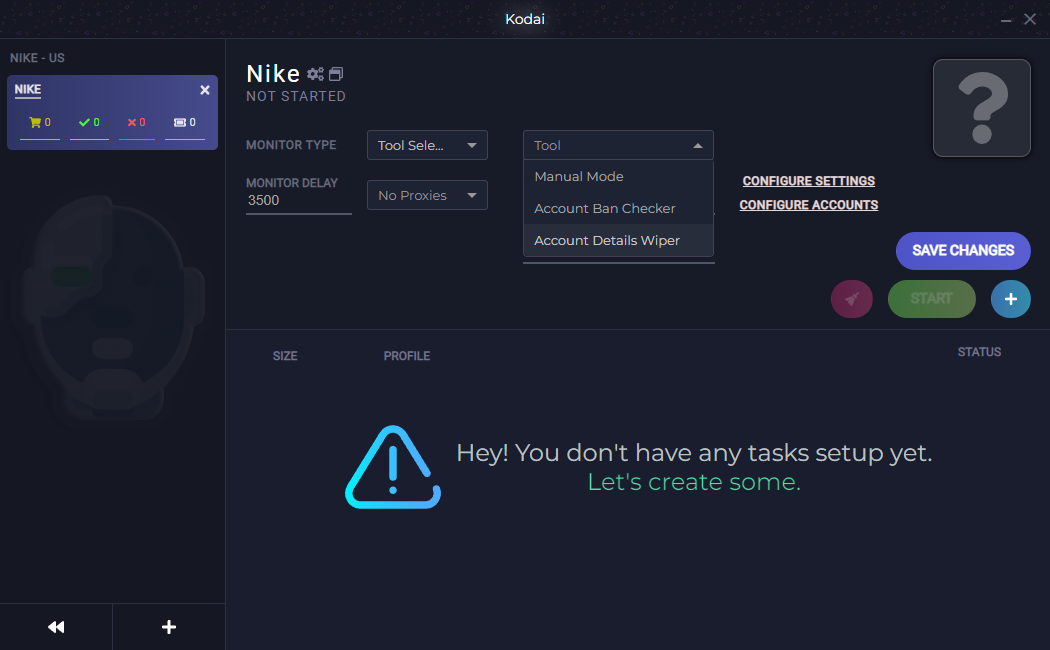 Click on Configure Accounts and enter your accounts, just like you would a normal release.
Select your Proxy List.
To create your tasks, click the + sign. Make a task for each account. The profile and size you select does not matter.
Once you have done all the above, make sure to click the Save Changes button, then start your release.
For the Account Ban Checker, select the red clipboard button, on the left of the STOP button, shown on the screenshot below after starting the release to see the status of each of your accounts.

A list in the following format will be copied to your clipboard. Open a new Notepad, textedit, or anywhere you can type and click paste to view it.

---- BANNED (x) ----

---- NOT BANNED (y) ----

---- UNKNOWN (z) ----