FLX Accounts are used to enter into Footsite raffle releases, which are their new way of dropping hype sneakers online. Each FLX Account can be used across all 5 of their online sites, including Footlocker US, EastBay, ChampsSports, Kids Footlocker, and Footaction. Essentials will create the FLX account in email: password format so that you can easily import it into your Footsite bot.
Before you begin to generator FLX accounts in Essentials, you MUST follow the guide below to create Automatic Email Forwarding.
Once you have followed the steps above, go into the Generator tab and click on Account Generator.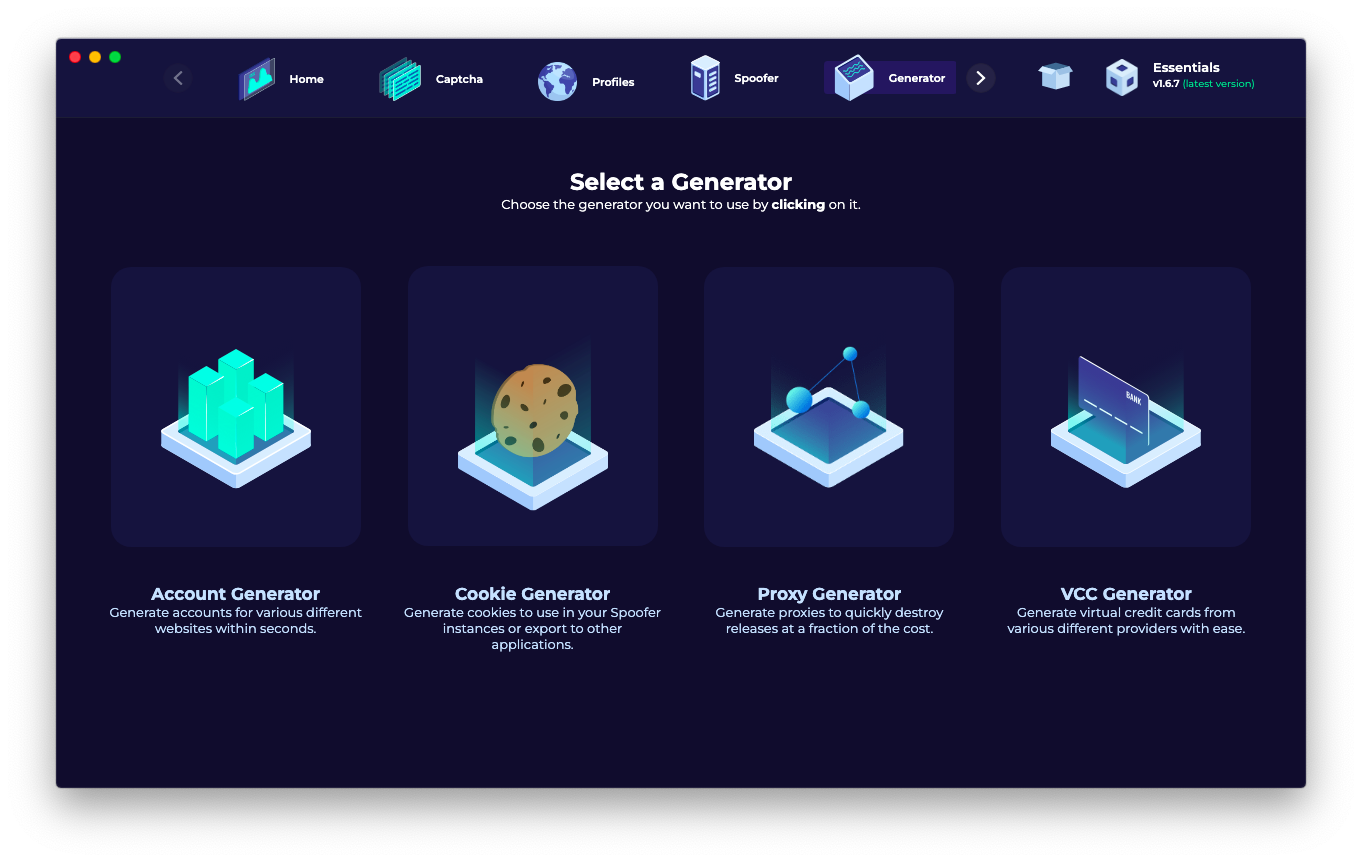 You have the option to input Default Generation Settings, including your catchall email (@catchall.com format), 2captcha API, a custom password, Webhook URL, and a set of proxies. The option to Remove Email Randomization is also available, which will remove random numbers and characters from your catchall email. Be sure to Select Save Settings if you made any changes to this section.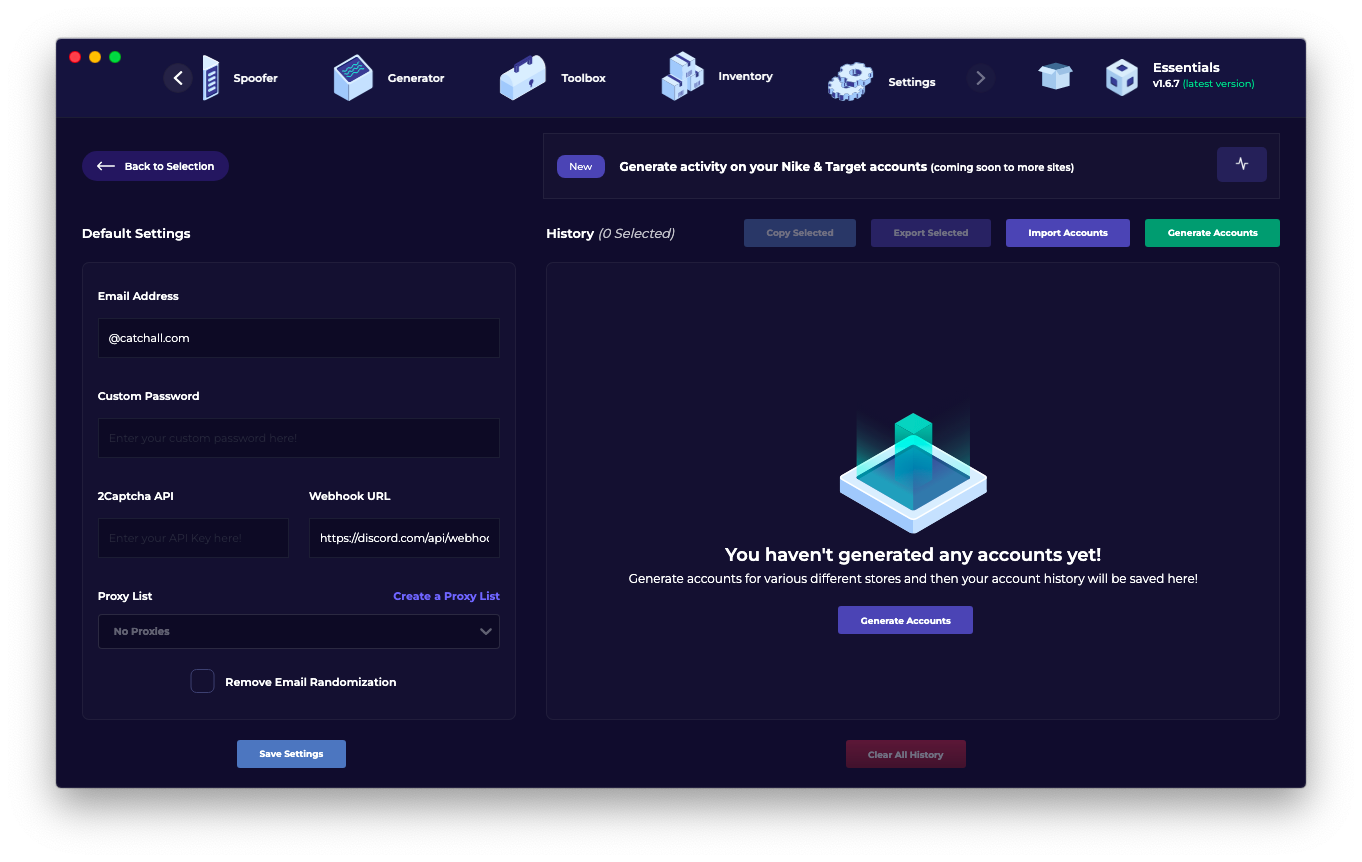 To generate accounts, select the Generate Accounts.
Select FLX or FLX (Verified) from the sites we support. The difference is that one generator verifies your account while the other generator does not. FLX (Verified) is recommended.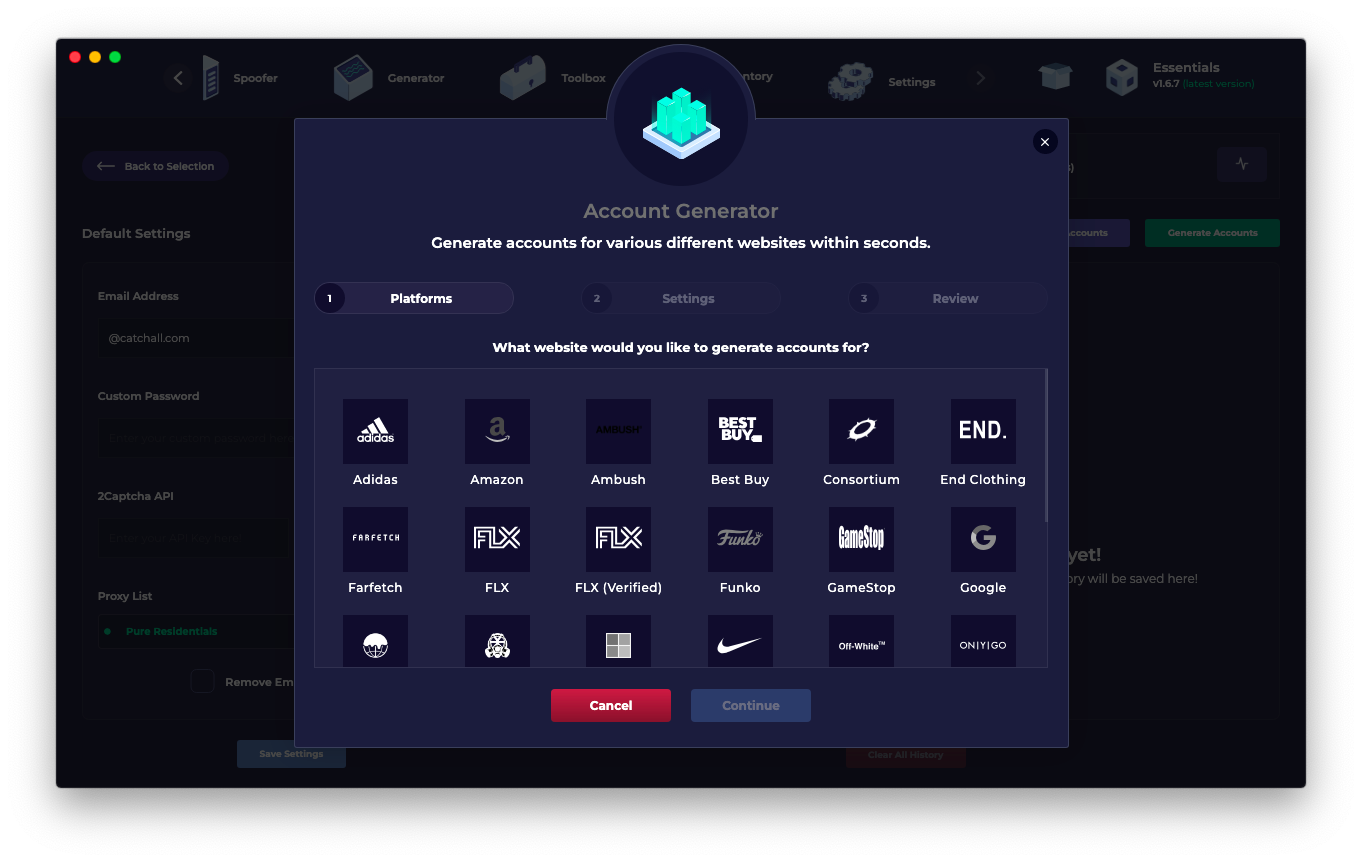 Your Default Settings will carry over to this next section.
Select Free XPoints to give your FLX Accounts points to enter Footsite raffles. Points are not necessary to enter raffles, but they can be used to provide you with "Boosts" as an advantage of winning a raffle. Each FLX Account created with this option should give you 1250 FLX points.
Note - It may take a few days for all 1250 points to be added to your account. Anywhere between 500 and 800 points should be automatically added when the account is created.
The FLX Accounts will be automatically verified if you follow the Automatic Forwarding Email Guide posted above.
You also can create accounts based on a select Profile Group. This will use the email address in your profile(s). The Free XPoints option is also available to use.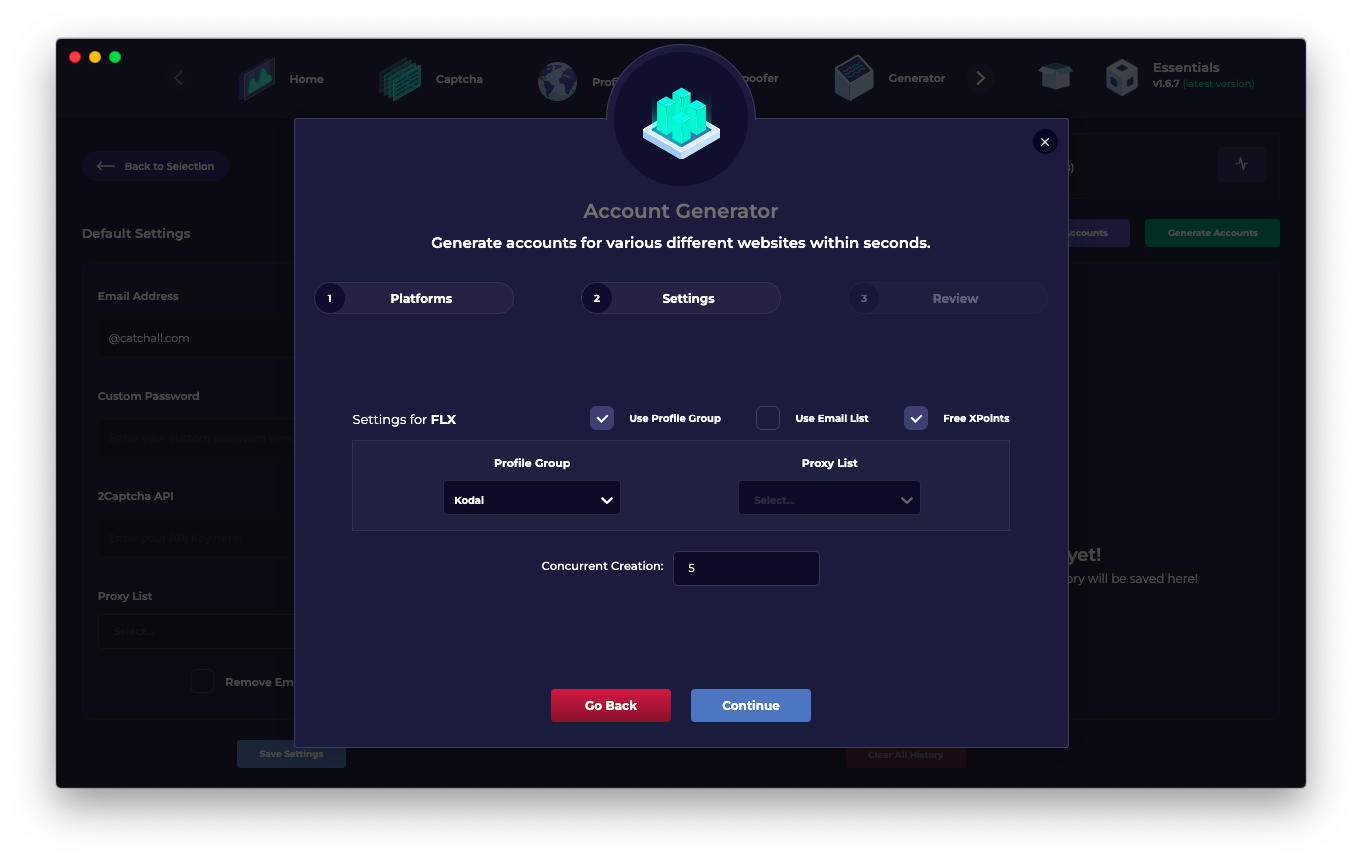 An option to use your emails (i.e., Gmail, Hotmail, Outlook) to create FLX Accounts is also available. Select the Use Email List option and past your email list into the appropriate field.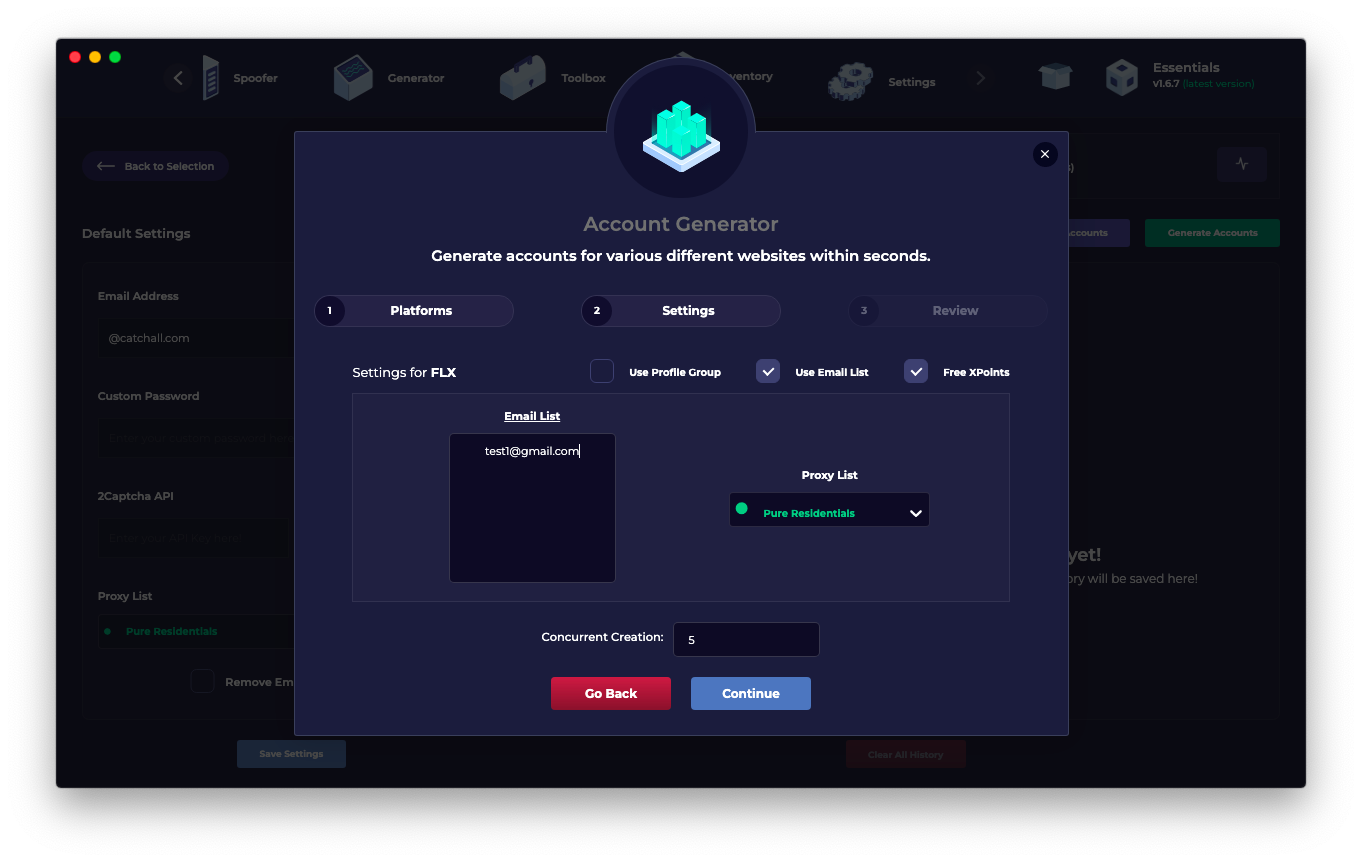 To start the FLX Account generator, select Continue.
Once the process is completed, your FLX Accounts will be stored in your Account History, as shown below.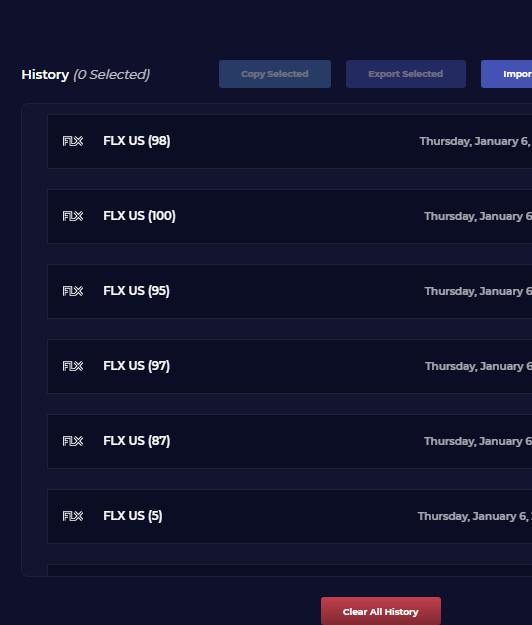 Status Meanings
Blocked by Datadome - The proxy used to create the FLX account was blocked by Datadome. Use another set of proxies or providers.
Error - Account failed and did not complete the sign-up process.
Failed Verifying - Account was unable to verify.
Created - Account successfully created and is verified.